The Writers
Christina Barrett-Jones
Christina Barrett-Jones is an emerging writer with a passion for writing pieces for performance and is interested in exploring relationships and the fragility and the enduring spirit of the human condition: that which is visible and that which goes unseen.
To date her work has been shown at the Stratford Circus (Without Breathe), Tristan Bates Theatre (Silk), The Cockpit Theatre (The Minotaur's Cave) and has had two of her plays workshopped by The Chalk Circle, part of Norwich Writer's Centre (The Good Daughter) and at the Arcola Theatre (The Minotaur's Cave). Christina was also chosen to take part in the American Diasporic Literary Magazine Callaloo when they held their first UK writer's workshop here in London in November 2013.
Gus Gowland
Gus Gowland originally trained as an actor at the RSAMD in Glasgow but has spent the last decade writing and creating his own work. He co-wrote and directed 'Barren', a one-woman show based on Lorca's Yerma (special prize for merit at the LOST One Act Theatre Festival), 'Love Love Love' (Canadian Fringe Tour) & wrote & performed in 'Tell Me On A Thursday', a one-man musical, at the Camden Fringe. In 2011 Gus wrote two songs for 'Copyright Christmas', a festive show at the Barbican, produced by the Olivier award-winning company, Duckie. He completed his Masters in Musical Theatre at Goldsmiths in 2011, graduating with Distinction. Gus was shortlisted for the inaugural Perfect Pitch award in 2013.
Current projects include: book & lyrics for a new musical based on Euripedes' 'Medea' with Matthew Floyd Jones (for Johanson Productions & Cartwright Productions) & a new song cycle with Craig Adams.
His musical 'Pieces of String' (for which he wrote book, music and lyrics) is being developed with Perfect Pitch & is currently under option with The Booking Office. It is due to be produced in Spring 2015, directed by Craig Revel Horwood.
Katherine Manners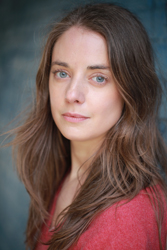 Katherine has been an actress for twelve years and has worked regularly at the National Theatre, the west end and in regional theatre, for BBC radio and TV as well as touring internationally with Sam Mendes' Bridge Project production of Richard 3rd.
She is currently developing a script at the National Theatre with director Melly Still, and is also working on a sitcom with What Larks! Productions and Boxfly Media.
Robert Shearman
Robert Shearman has written four short story collections (Tiny Deaths, Love Songs for the Shy and Cynical, Everyone's Just So So Special, Remember Why You Fear Me), and between them they have won the World Fantasy Award, the Shirley Jackson Award, the Edge Hill Readers Prize and three British Fantasy Awards.His background is in the theatre, resident dramatist at the Northcott Theatre in Exeter, and regular writer for Alan Ayckbourn at the Stephen Joseph Theatre in Scarborough; his plays have won the Sunday Times Playwriting Award, the Sophie Winter Memorial Trust Award, the World Drama Trust Award, and the Guinness Award in association with the Royal National Theatre. He regularly writes plays and short stories for BBC Radio, and he has won two Sony Awards for his interactive radio series, 'The Chain Gang'. But he's probably best known for reintroducing the Daleks to the BAFTA winning first season of the revived Doctor Who, in an episode that was a finalist for the Hugo Award. His forthcoming collection of stories, They Do The Same Things Different There, is to released this summer.